Becoming a reseller will grant you a standard discount. However,
the reseller status is designed for companies that want to actively prospect for new Xen Orchestra users
. That's why we are asking our partners to
resell Xen Orchestra at least two times a year
. If you are acting as a third party purchaser answering to a specific request from one of your customers, you don't need to apply to the reseller program - you can follow
Purchase departement
instead.
Apply to the program
To apply to our partner program, you can access the partner page and click on the "Register to become a partner" button: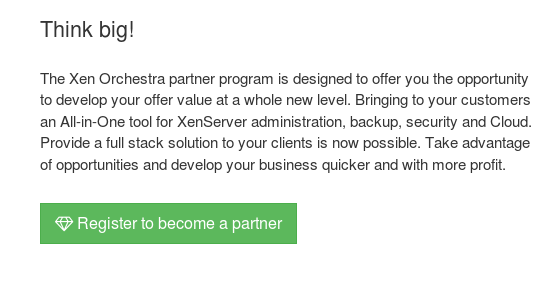 You will have to complete a form in order to provide information regarding your expectations and location. Once you've finished, you should receive an email in order to start the discussion with someone from our team.
Once we have activated your partner space, you will have the ability to access the purchasing page
at the same place
.